In BNSF's latest edition of Rail Talk, the focus is on the accomplishments of a production gang in Minnesota that completed important track work just before the beginning of harvest season traffic.
We've reproduced it below, with thanks to and permission from BNSF.
It's a familiar sight on the railroad: A long stretch of track heading into the horizon, surrounded by fields of corn nearly ready for harvest. A nearby grain elevator is silhouetted by bright blue sky, the sun poking through delicate clouds. A gang stands off to the side of the tracks . . .
Wait, a gang?
Every day, teams of engineering employees traverse BNSF's track, moving from town to town, track mile by track mile, making sure the railroad infrastructure is safe and efficient. These teams are known as regional production gangs.
Throughout the year, 28 gangs on average work on the 32,000+ route-mile network, conducting maintenance on existing track and adding track to expand service. It's one part of BNSF's annual capital investment plan, which all told is expected to total $3.55 billion and focuses on projects that support BNSF's growth and efficiency objectives while maintaining a strong and reliable railroad.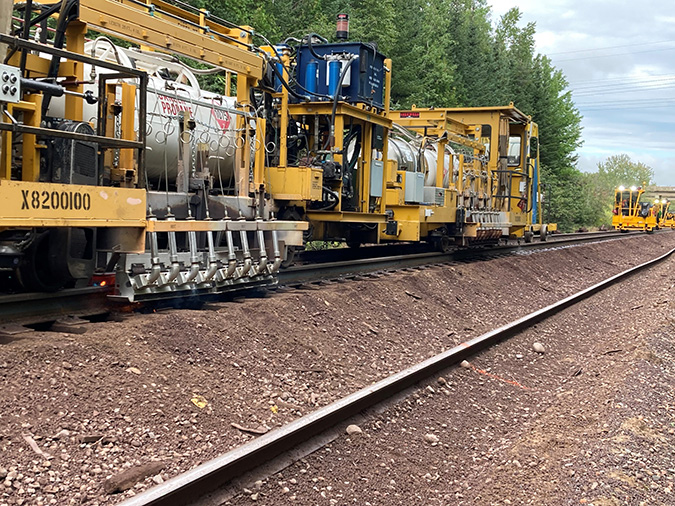 One major capital investment project was recently completed in Ulen, Minn., a small town about 40 miles east of Fargo, N.D. It's also home to one of the Top 5 originating shuttle facilities on the BNSF network.
That's notable, given BNSF hauls more agricultural products than any other railroad in the country. In 2021, BNSF moved 63 million tons of grain from America's heartland to receivers here and around the globe.
The Ulen facility's success and potential growth spurred BNSF to add the project to its capital investment list for 2022. The project aims to increase safety, efficiency and capacity for the BNSF customer.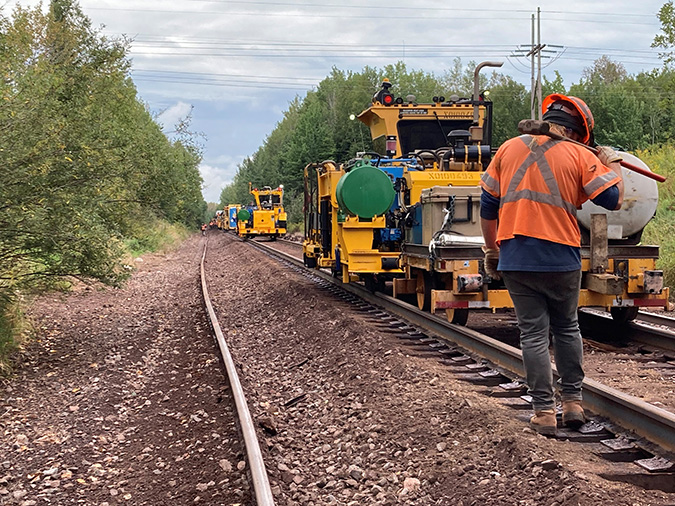 Assistant Roadmaster Tom Zerr led the gang that performed the work. "The track leading to Ulen's grain facility was jointed, or bolted rail, rather than smooth, continuous rail that is welded as a single piece," he explained. "While jointed rail is safe, it does require heat and speed restrictions, which reduces efficiency."
Zerr's team completed the work in 14 days, four fewer than planned, installing 63,000 ft of new 115-lb welded rail.
"This new, heavier rail will remove those heat restrictions and allow for increased speed, from 10 mph to up to 25 mph," he added. The changeout also improves the flow of westbound trains, greatly increasing efficiency and reducing the number of crew and staffing issues experienced at this location.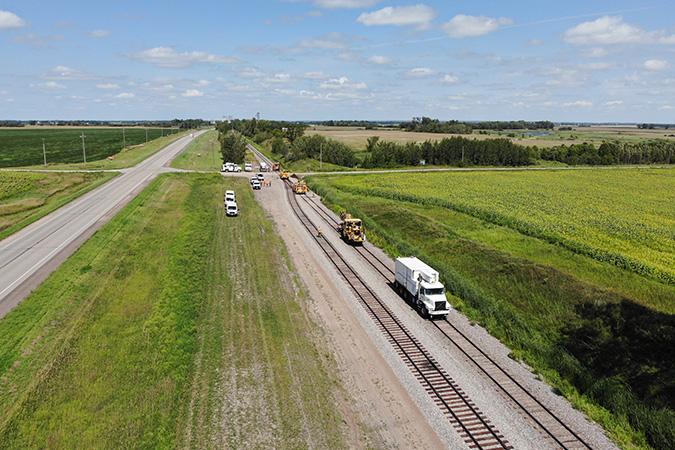 "This is really a big deal," Zerr said. "This will have a big impact on sustainability and customer satisfaction. It makes us so much more competitive."
Zerr, who has had several roles at BNSF since coming aboard in 2014, learned railroading from the ground up as a trainman and tower operator working in North Dakota, Minnesota, and Washington. That experience gives him a unique perspective when working on track projects.
"We are here and making an impact, not only to us, but to our company and our customers," he said. "We are also making an impact to the economy. We have a bigger purpose day-to-day."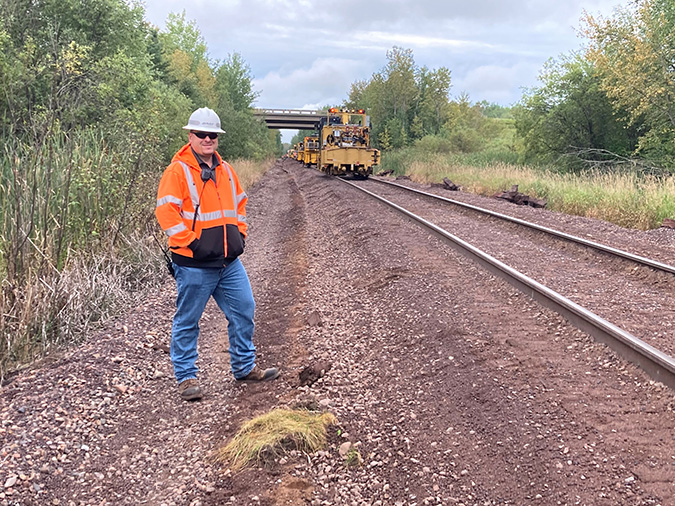 Zerr, who just completed his bachelor's degree in Leadership Organization, knows it's projects like these that motivate his team.
"When we finish a project, we leave the railroad in better shape than when we came, whether that means it's safer, faster, more efficient, or all the above," he said. "We take pride knowing that we've increased customer satisfaction, improved service, and supported Minnesota producers. And all of this was completed ahead of the agriculture season. It's game on."
All text and photographs courtesy of BNSF.
Read more articles on track maintenance.