BART has several projects underway to replace sections of its critical electrical network that powers their trains.
Some of these components have reached the end of their useful life and need to be replaced. Here are two announcements from BART detailing some of the work, and outlining concurrent single track operation that will cause relatively minor delays during the work.
_____________________________________________________________________________________________________
Single-tracking in San Francisco
BART crews continue their work replacing aging traction power equipment in San Francisco causing single tracking with minimal delays on select Sundays.
Upcoming single track Sundays include:

*December 12, 2021

On select Sunday single-tracking, expect up to 10-minute delays from 8 am to 7 pm. We will single between the 24th Street Mission and Balboa Park stations. Work is also continuing in downtown San Francisco, but single tracking will only happen in one of the two work areas on select Sundays.
There will continue to be 2 line service through the Transbay Tube on Sundays in 2021- the Antioch-SFO (Yellow) line and Dublin/Pleasanton – Daly City (Blue) Line.
On Single-tracking weekends Dublin/Pleasanton – Daly City (Blue) Line service will terminate at 24th Street. Passengers traveling further south will cross the platform board the Yellow Line for SFO/Millbrae. On non single-tracking weekends, the Dublin/Pleasanton (Blue) Line will travel to Daly City.
Sunday service changes vary week to week and riders are encouraged to check the Trip Planner or the official BART app before each trip to see the service plan.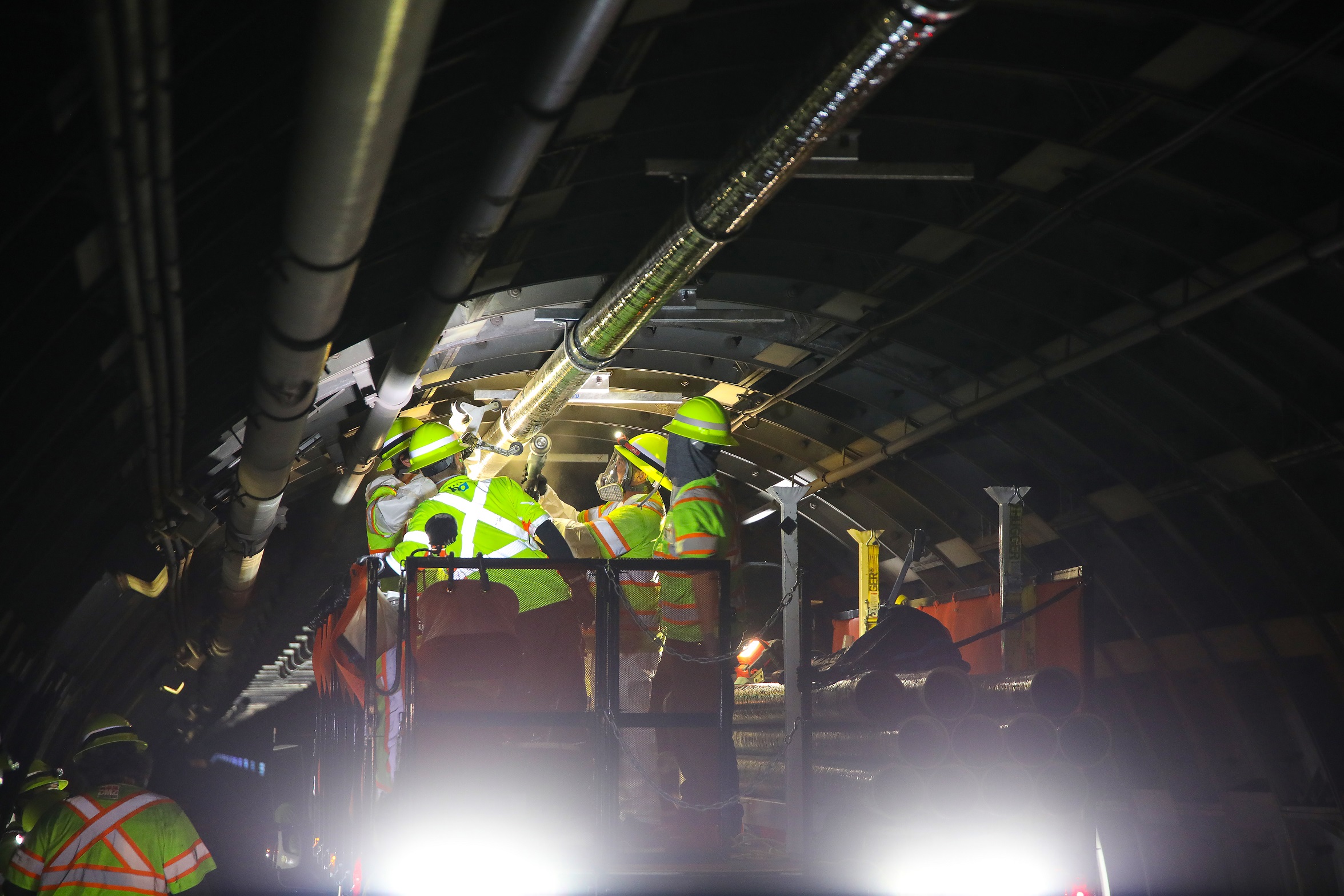 Workers performing electrical cable work on BART system (BART photo)
The project has received a major boost in recent months thanks to efforts to accelerate critical rebuilding work during this time of reduced service hours because of the COVID-19 pandemic.  Many of the aging electrical components are nearly 50 years old and have outlived their design lives.  Replacing this outdated infrastructure is essential to ensure BART trains have a reliable power source as they carry riders through the heart of the system. 
Much of the recent focus in downtown San Francisco has been on replacing the 34.5kV (kilovolt) electrical cables that provide power to BART trains. BART has accelerated this project and the increased productivity means the project can potentially eliminate 35 future Sundays when BART would have had to delay riders by running single-track service through the work area.
The entire project in San Francisco is expected to wrap up in late 2023.
Check out our in-depth story and video about this project from 2020.
Critical cable replacement work in Lafayette
BART is replacing electrical lines and other support components that are critical for maintaining reliable train service through Lafayette. BART has already been replacing traction power cables at different locations across the system. BART is reaching out to neighbors about potential construction impacts. The work will require that service be reduced to one track in Lafayette on Saturday, December 18 starting at 9pm through Sunday, December 19 at 10am. Riders traveling through Lafayette should expect delays of 15-20 minutes.
This critical infrastructure provides power for our trains from the high voltage switching substation and supports redundancy for this portion of the BART system. This equipment is essential for ensuring reliable train service. This 50-year-old electrical infrastructure (part of the legacy system) has exceeded the end of its design life and must be replaced. Loss of power in this section of track without any backup would have major impact on train operations for the entire BART system.
In order to perform this critical job, BART crews have been working nights and weekends to complete the work. Neighbors can expect construction activities under our aerial trackway with the operation of construction equipment.