Starting this summer, we'll be launching new light rail service at least once a year, for the next several years. Here's the latest on construction progress and opening timelines.
As part of the biggest transit expansion in the nation, Sound Transit will be taking some big leaps forward within the next few years to more than double the current Link light rail system.  
That means growing from 26 miles to 62 miles and adding service to Tacoma's Hilltop neighborhood, Bellevue, Redmond, Lynnwood, Federal Way, and cities in between.
We know just how eager the region is for these long-awaited and transformational new transit options, and we can't wait to welcome everyone aboard as soon as possible.
As the steward of these voter-approved, taxpayer-funded projects, we're also committed to being transparent, and we want to keep everyone informed about the risks and challenges that are inherent in this work.
In conjunction with our 2023 System Expansion Progress Report arriving soon in mailboxes across the region, we want to bring everyone up to speed on how our five Link projects in construction have advanced since December.
Doubling the T Line to Reach More of Tacoma
We expect to open Tacoma's light rail extension from downtown to the Stadium District and Hilltop neighborhood this summer, currently trending toward late August or September.
What does it take to finalize an opening date? Right now we're finishing final construction tasks and are into the "systems integration testing" phase, where we make sure everything functions as designed at each of our six new stops (plus a relocated Theater District stop) along the T Line's 2.4 miles of new track.
This work includes testing all the functions inside our trains—everything from lighting to safety controls to the operator's intercom—as well as how they communicate with traffic signals, track switches, stations, and other external systems. It's also when we host emergency preparedness drills for local first responders to help them get a feel for the new service and conditions.
We're also adding five brand new Brookville light rail vehicles to the T Line fleet. After they arrive from the manufacturer in Pennsylvania, we put them through their paces to ensure they're built to the proper specifications and are safe and reliable for passenger service.
After systems integration testing, vehicle acceptance, and safety approvals, we'll start the next phase of service activation, "pre-revenue service." This phase is scheduled to begin in June. It includes operator and maintenance staff training, plus even more testing to ensure that all our new stations, tracks, utilities, and vehicles work together as expected before we welcome passengers aboard.
During pre-revenue service, trains will be running simulated service at all times of day, plus direct engagement in the community to help Tacoma drivers, pedestrians, bicyclists, and passengers interact safely with Link trains in the roadway.
Through this preparation period, we're also addressing emergent issues that could affect the opening date. Since our last update in December, for example, we've performed specialized rail grinding along a short section of the new extension to ensure a smoother ride and to meet our requirements for long-term durability. We have also made adjustments to the overhead wire system that powers the trains.
As we complete these final tasks and tests over the coming months, we'll announce an official opening date. Stay tuned, because we can't wait to celebrate!
1 Line and 2 Line Progress
In recent months we've also told everyone about various construction challenges facing our light rail extensions to Lynnwood, Federal Way, and the Eastside including Bellevue and Redmond—projects that rely on one another for success and frequent service.
We want to be transparent about where we are, what we're seeing, and what we're doing about it.
Construction quality issues along the I-90 portion of the East Link Extension, specifically, are driving Sound Transit's staff and Board of Directors to rethink the order in which we open these projects.
Eastside projects
As East Link project delays came into focus, Sound Transit's Board of Directors asked us to explore the possibility of opening a significant portion of the new 2 Line, which is not affected by quality issues, ahead of the I-90 segment.
Since our December update, we've continued construction and testing while developing a potential concept to launch service between eight 2 Line stations as soon as next spring, from South Bellevue Station to Redmond Technology Station.
This summer we'll invite input on this possibility, and on service around the region, as part of our annual Service Plan public engagement period.
Later this year, the Board will consider that feedback, equity analysis results, and other information to determine whether to open this portion of the new 2 Line first.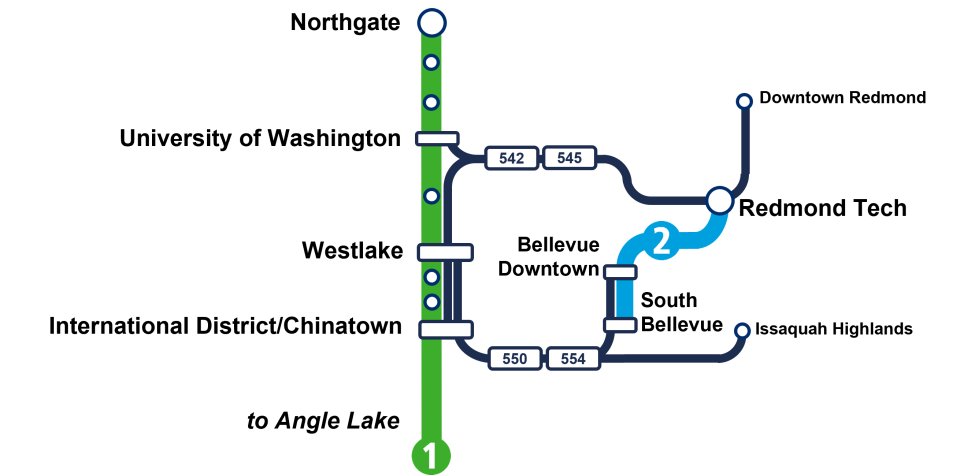 Right now we're putting the finishing touches on stations in this segment, installing ORCA machines, wayfinding signage, and safety enhancements in the areas where the tracks run at ground level. We're also fine-tuning the ventilation system in the new Bellevue tunnel to prepare for emergency responder training in the coming months.
The Downtown Redmond Link Extension, which adds two more 2-Line stations at Marymoor Village and Downtown Redmond, is also progressing well and continuing to pick up time in its construction schedule. Our opening timeframe for this 3.4-mile extension remains spring 2025.
Unfortunately, though, work on the I-90 segment of the 2 Line has been slower than expected thus far. While the pace is picking up, this remains a considerable schedule risk.
Contractors are demolishing and reconstructing plinths that don't meet our design standards. This plinth replacement is happening along the I-90 segment of the tracks on both sides of Lake Washington, but not on the floating bridge itself.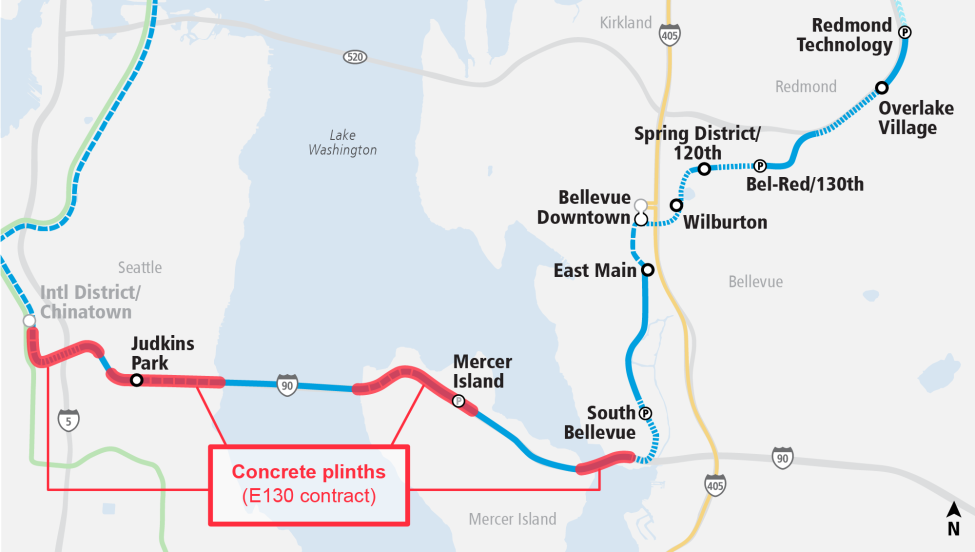 The contractor has brought on more supervisory staff and craft laborers and put new training protocols in place to make sure the reconstructed plinths achieve our quality requirements. We've also brought on additional inspectors to oversee the work.
We're tracking these issues extremely closely and weighing every option to keep the work moving forward. These conditions are evolving quickly, and staff will return to the Board this summer with another quarterly update on construction progress.
In the meantime, we'll be updating Board committees next month on project sequencing, as well as analysis required to make the 2 Line part of the 2024 Service Plan.
Reaching Snohomish County
Like the Downtown Redmond project, the Lynnwood Link Extension has progressed on schedule since our last update and has even picked up some time in the schedule. It could be ready to open as soon as next summer or fall.
As part of this project, we were proud to open the new Lynnwood Transit Center parking garage last week. This phased approach allows commuters to enjoy the new facility now, while contractors take over the existing surface lot for staging in order to finish remaining construction tasks.
We've also shared that when Lynnwood Link opens, service will be less frequent than previously planned, at least at first, because it will initially operate as an extension of the 1 Line only. Until the I-90 segment of East Link opens and 2-Line trains can cross Lake Washington and access our Operations and Maintenance Facility East in Bellevue, service to Lynnwood will be limited by the storage capacity of our Central OMF in Seattle.
This remains one of our biggest holistic challenges for near-term service expansion systemwide.
As deliveries of our new light rail vehicles continue, we need the storage and maintenance space, as well as the people power, to test them and prepare them for service at a consistent pace.
We're continuing to explore creative solutions for train storage and OMF East access in order to run trains as frequently as we can on Lynnwood Link when it opens next year.
Extending from Angle Lake to Federal Way
Since our last update, the design-build contractor for the Federal Way Link Extension finalized design on a long-span bridge to solve for the unstable soil area we found along a portion of the alignment in Kent.
Construction is already under way on deep foundations for the 1,000-ft. span, which runs between southbound I-5 and a wetland area south of the former Midway Landfill.
Based on continuing schedule discussions with the contractor, we're now estimating an opening timeframe of 2025 or 2026 for the Federal Way Link Extension.
We'll keep refining this target as construction advances on the long-span bridge, and also as we learn more about East Link progress.
All these projects share resources—including Sound Transit staff and staff at the many agencies and entities that also play critical roles in activation. With that in mind, we've determined that, with current staffing levels, we need six months between project openings in order to safely and reliably launch new service.
We're currently exploring ways to augment staff resources to reduce this time constraint.
Next steps
Things change quickly as complex megaprojects like light rail extensions near completion. Identifying issues—and their solutions—is all a part of the process.
While there's still more work to be done before we can definitively schedule opening dates for these new projects, our commitment to transparency and "no surprises" means everyone can count on regular updates on our progress.
In the near term, we'll once again update the Board on project sequencing and operating assumptions for the 2 Line in May, and we'll begin public engagement around our 2024 Service Plan in the next few months.
This article first appeared on the Sound Transit website on April 26.