FTA, TriMet and partners officially break ground on 'A Better Red' MAX extension and improvement project
Written by
Roberta Altstadt, TriMet
TriMet and partners are moving forward with "A Better Red."
The U.S. Department of Transportation's Federal Transit Administration joined TriMet and our partners in breaking ground on A Better Red Tuesday, Sept. 28, 2021. The project will extend the MAX Red Line west into Hillsboro to serve 10 more stations. It also brings important track improvements between the Gateway Transit Center and Portland International Airport that will improve reliability on the Red Line, while keeping trains running on time throughout the entire MAX light rail system.
The new and improved MAX Red Line service will be up and running in 2024. The project is made possible thanks to a $99.9 million construction grant award from the FTA, which covers a substantial portion of the approximately $215 million cost of the project.
"FTA is proud to join our partners at TriMet to support the 'Better Red' project, which will connect riders throughout Portland to important parts of their lives, by extending the MAX Red Line light rail and improving public transportation throughout Portland," said FTA Administrator Nuria Fernandez. "We commend TriMet's commitment to improving service, reducing delays and protecting riders by focusing on ensuring a state of good repair."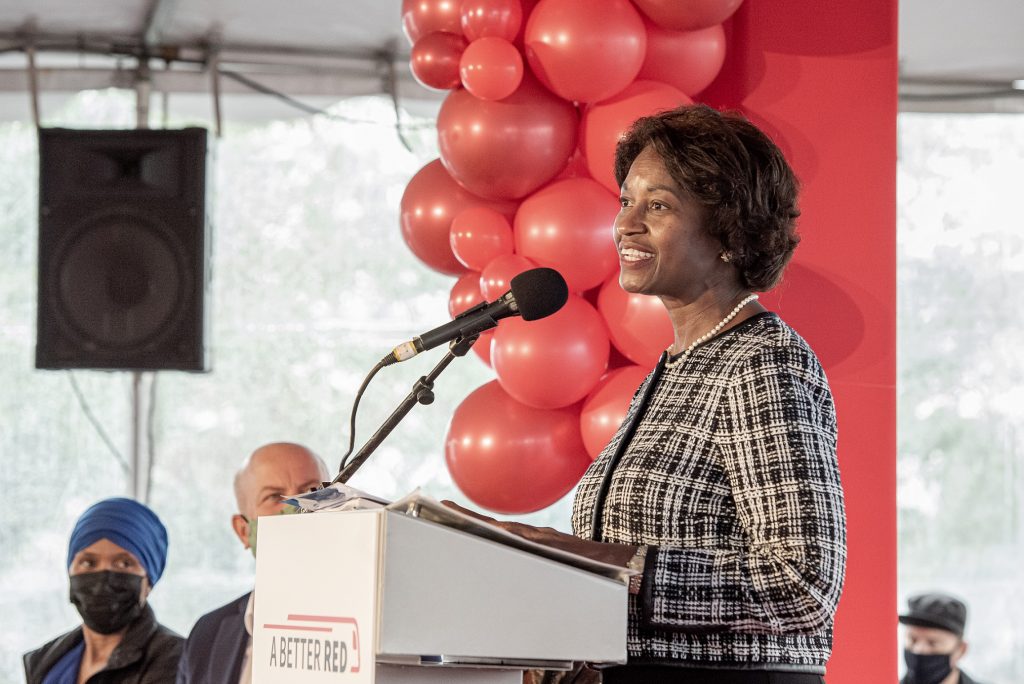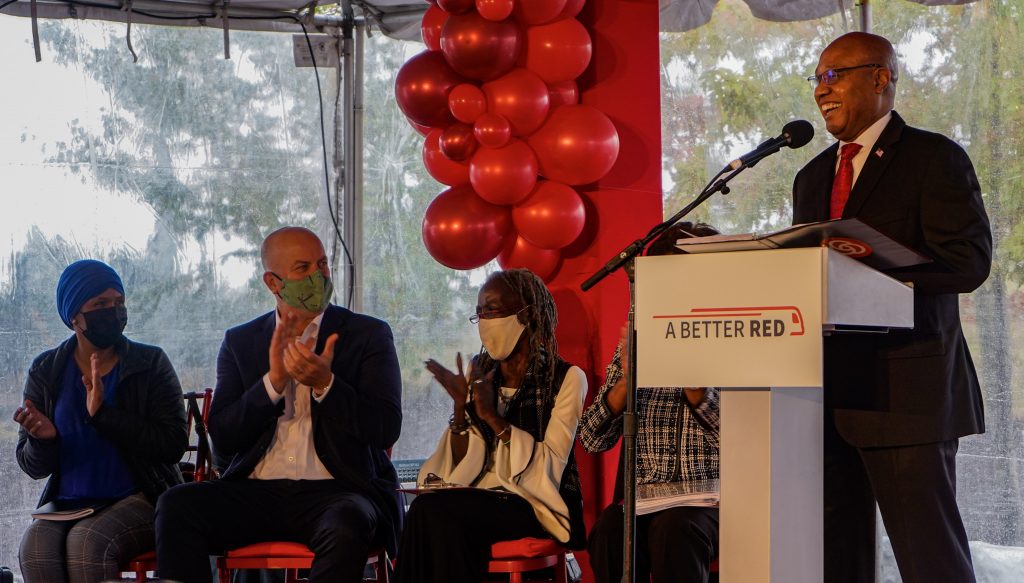 "TriMet appreciates the support of the FTA, Administrator Fernandez Nuria and Transportation Secretary Pete Buttigieg to improve our transit system," said TriMet General Manager Sam Desue, Jr. "While the MAX Red Line has served our region well for the past 20 years, we're looking forward to a 'A Better Red' that serves more people, provides a more convenient alternative than driving and increases reliability throughout our MAX light rail system."
Track improvements to increase MAX reliability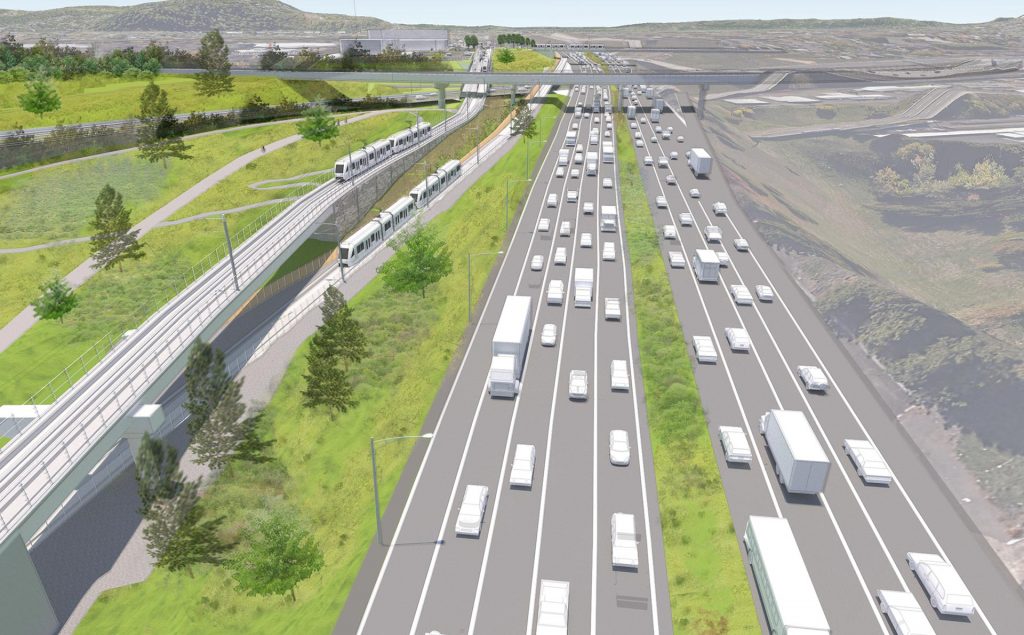 A Better Red will add a second set of tracks in two sections of the MAX Red Line between Gateway Transit Center and Portland International Airport. That will reduce delays where currently MAX trains traveling both directions on a single set of tracks have to wait for oncoming trains. It will increase reliability system wide as those potential delays can cascade onto the MAX Blue and Green Lines at Gateway Transit Center as well as on to the other lines in the interconnected light rail system. Simply put, A Better Red will make the MAX light rail system – powered by 100% renewable energy – a more attractive and convenient transportation option.
"It is so wonderful that we now have a leader in the White House who believes in science and will serve as a strong partner in the City of Portland's efforts to reduce carbon emissions," Portland Transportation Commissioner Jo Ann Hardesty said. "Thanks to federal support and local community commitment, Portland has been a leader in the national movement to reduce carbon emissions by making it easier for people to walk, bike and take public transit. We are looking forward to federal support to help us go even further, to help us use public transit to ensure that everyone has access to housing and jobs, regardless of your race or income.
New station serves as gateway to Portland, wider region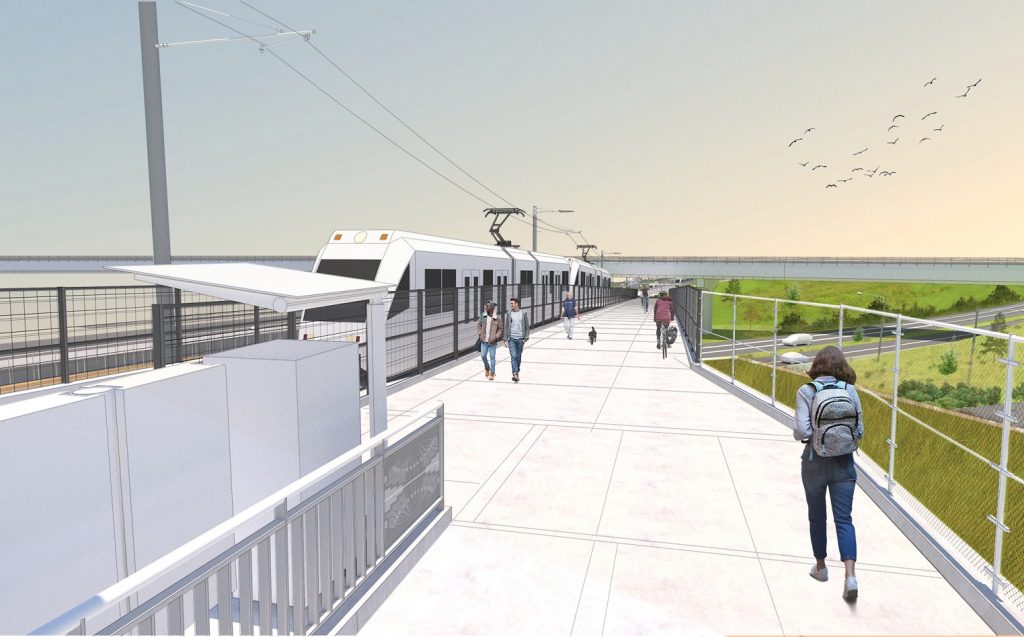 With the second set of tracks being added near Gateway Transit Center, a new Gateway North Station will be built. This will be served by MAX Red Line trains heading south from PDX toward Downtown Portland and allow for more efficient travel. The MAX station at the airport will be renovated as part of the project.
"Transit connectivity is essential to our success at Portland International Airport," said Port of Portland Executive Director Curtis Robinhold. "Twenty years ago, TriMet and the Port worked together to establish the first 'train-to-plane' service on the west coast. Two decades later, our partnership continues with the Better Red Project – which stands to benefit visitors to the region, resident travelers, and airport employees."
A new multi-use path being built by TriMet and the Port of Portland will connect the Portland International Airport and the renovated MAX station there with NE 82nd Avenue.
A Better Red brings a better 'Green' – Gateway Green
Two new bridges will carry the new section of track at Gateway Transit Center over existing trackway, the I-205 multi-use path, Interstate 84 and Union Pacific Railroad tracks.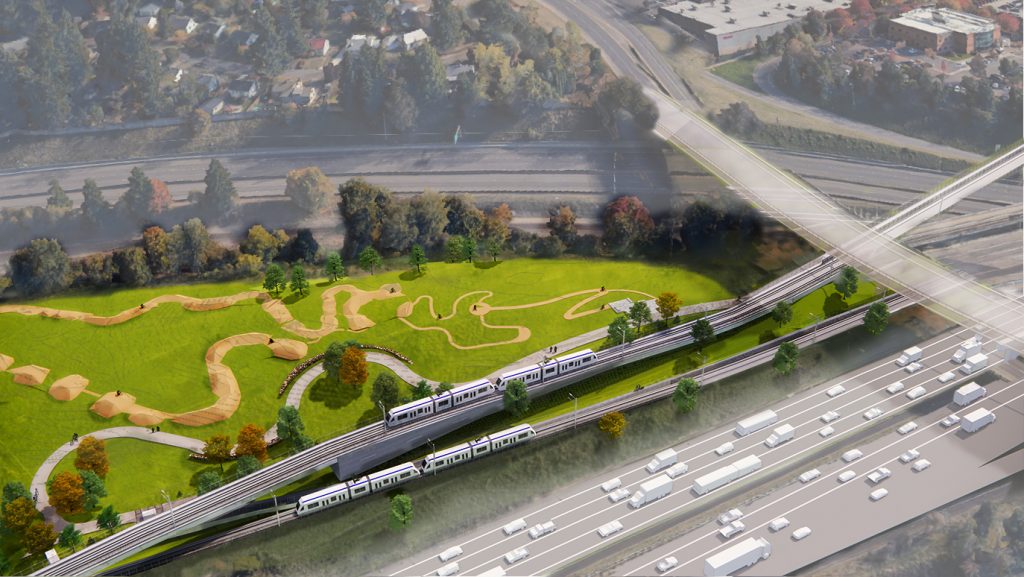 The new bridge over I-84 will include a multi-use path that will connect the new Gateway North Station with the existing platforms and bus stops at the Gateway Transit Center. To the north, the path will provide new access into Gateway Green Park, currently accessible only from the I-205 multi-use path. This is possible only through an important partnership between Portland Parks & Recreation and TriMet.
Not only will the new path make it easier for people to access Gateway Green Park, it will provide access to the park for emergency vehicles. TriMet crews will also regrade the south end of the park to facilitate bigger and better mountain biking terrain.
More MAX service coming for Washington County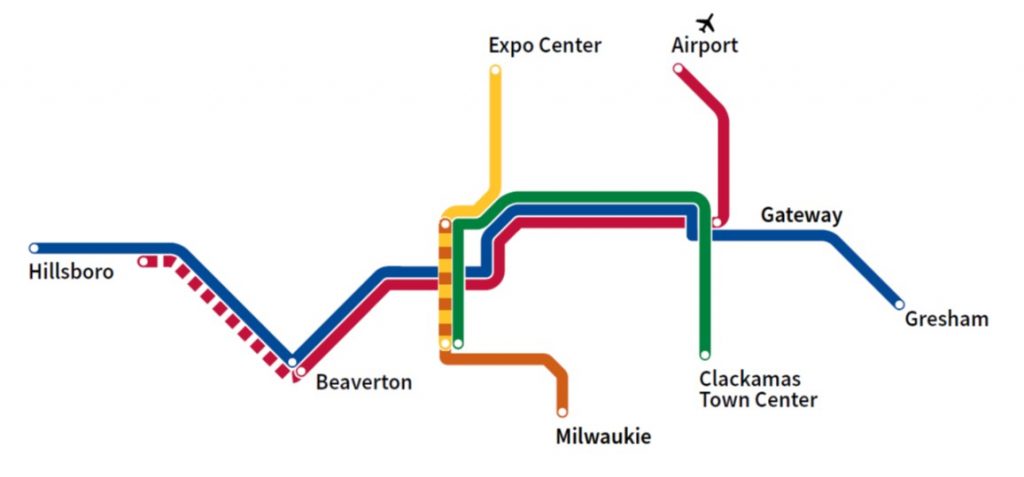 A Better Red will extend the MAX Red Line into Hillsboro. Currently, the Red Line ends at Beaverton Transit Center. By stretching the line west to serve 10 stations where only MAX Blue Line trains stop today, more people will enjoy a one-seat ride to Portland International Airport. It will also mean more service in a section of Washington County where MAX trains were often overcrowded prior to the pandemic. Four new light rail vehicles will be added to accommodate the increase in service.
"We know that expansions in public transportation are especially important to people who struggle to find affordable, convenient housing near employment areas, shopping, medical services and recreation," said Washington County Commissioner Nafisa Fai. "To Washington County, the Red Line expansion is more than an investment in transportation. It's an investment in creating safer, healthier and more livable connected communities."
Putting people and diversity to work
A Better Red project is expected to create up to 1,200 jobs. With TriMet's long-standing commitment to support businesses owned by people of color and women, 20% of the project's design has been awarded to Disadvantaged Business Enterprise firms, with 20% of construction funding expected to go to DBEs. To date, 40 firms have worked on the project, 24 of which are certified DBE, Minority Business Enterprise or Women Business Enterprise firms.
Funding & partnerships
TriMet thanks A Better Red partners: Federal Transit Administration, Port of Portland, Metro and Portland Parks & Recreation.
Funding:
$104.0 m TriMet
$99.9 m FTA Small Starts / SYGA
$8.9 m Regional Flexible Funds administered by Metro
$2.2 m Port of Portland
————-
$215.0 m Current total project cost